Volunteers Needed
1st Marwood Scouts is growing fast, new young people are joining every term and Beaver, Cub and Scout sections need adult support to allow them to continue to operate and grow.
We need your help even if it's just an hour a month there's a place waiting for you. Just finished college and or Uni and want to get back into Scouting - you never really left, welcome.
Currently we are looking for a Cub Leader and an Activities Team Member to work with the Cub Scout section, full training will be provided, you will need a Scout DBS check done and go through a selection/appointment process, if you're 18 or over please drop me an an email or give me a call, we can discuss how you can help to encourage, foster, develop and build strong, independent confident young people.
Alan Cruden: acruden7@gmail.com - 01271850592 
1ST MARWOOD SCOUTS FUNDRAISING using; www.easyfundraising.org.uk
Please sign up to #easyfundraising and help us raise FREE funds for 1st Marwood Scouts when you're doing your everyday shopping online. THIS IS FREE MONEY FOR US! Plus, when you raise your first £5, easyfundraising will match it! 
This short video explains how simple it is and it doesn't cost you anything: http://efraising.org/cv1Wj5Bman. 
Sign-up using our unique link and search for 1st Marwood Scouts: https://www.easyfundraising.org.uk/invite/ZPHAGD/3Q7S9P

I want my child to join Scouting
This form should be used to register your young person with 1st Marwood Scouts, it does not guarantee they will have a place, but will provide the Scout leader with essential information to enable a decision to be made.
I want my child to join Scouting - BLANK
Microsoft Word Document
74.3 KB
1st Marwood Scouts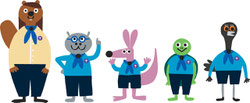 Meet Rachel, Erin, Harry, Kyla & Tareq
Rachel is the Beaver Scout Leader

1st Marwood Beaver Scout Colony
Open to boys and girls meeting on a Thursday's. From 5pm - 6pm. A young person may join at 6 years and remain until 8. Contact email; acruden7@gmail.com to let me know if you are interested in joining the colony.
The colony is full with 24 young people regularly attending, all of them have been invested into Beaver Scouts and have got their first badges.
Beavers have a wide and varied program of activities planned through out the year.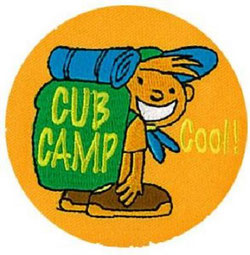 1st Marwood Cub Scouts
Open  to young people from age 8 to 10 1/2. Meeting every Thursday from 6.15 pm to 7.30 pm during term time.
We have a strong, varied program of activities and events both local and regional camps.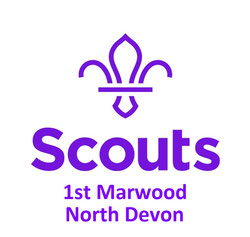 1st Marwood Scouts
Aged from age 10 1/2 to 14. 
From January 2020 we will meet once a month either at Scout HQ or at prearranged location to do an extended activity, e.g. 30 mile cycle or Day Hike.
Scouts will be able to complete the Duke of Edinburgh Bronze, Silver & Gold Award scheme, Queens Scout Award and participate in Ten Tors if they wish.
1st Marwood Scouts at the Remembrance Service     at Marwood Church on Sunday 12th November 2017