Volunteers Needed
1st Marwood Scouts is growing fast, new young people are joining every term and Beaver, Cub and Scout sections need adult support to allow them to continue to operate and grow.
We need your help even if it's just an hour a month there's a place waiting for you.
Currently we are looking for a Activities Team Member to work with the Scout section, full training will be provided, you will need a Scout DBS check done and go through a selection/appointment process, if you're 18 or over please drop me an an email or give me a call, we can discuss how you can help to encourage, foster, develop and build strong, independent confident young people.
Alan Cruden: 1stmarwoodscouts@gmail.com - 01271850592 

I want my child to join Scouting
This form should be used to register your young person with 1st Marwood Scouts, it does not guarantee they will have a place, but will provide the Scout leader with essential information to enable a decision to be made.
I want my child to join Scouting.docx
Microsoft Word Document
22.7 KB
1st Marwood Scouts

1st Marwood Beaver Scout Colony
Open to boys and girls meeting on a Thursday's. From 5pm - 6pm. A young person may join at 5 3/4 years and remain until 8 1/2. Contact email; 1stmarwoodscouts@gmail.com to let me know if you are interested in joining the colony.
The colony has settled down now with 20 young people regularly attending, all of them have been invested into Beaver Scouts and have got their first badges.
We have a sleepover planned for 20th January 2018 where many of them will be staying awake far too late, making way too much noise and enjoying themselves far too much - but hey that's what Scouting is all about!!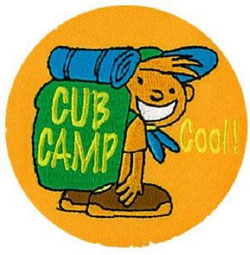 1st Marwood Cub Scouts
Open  to young people from age 8 to 10 we currently have a  6 strong Wolf Pack. With another 4 Beavers moving up to the Cub Pack at Easter and 4 more at the end of the Summer 2018. 
We have a strong, varied program of activities and events both local and regional camps to go to in 2018.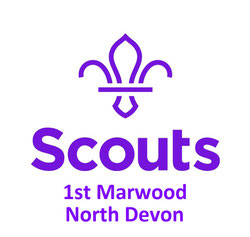 1st Marwood Scout Troop
Open to young people from age 10 to 14 we currently have an active Stag Patrol with 4 members. They plan and decide what they want to do, each term, we try our best to accommodate the program they want.
They also have both local and regional activities to look forward to in 2018, culminating in Run to the Fun in August, at Haldon Racecourse and Haldon Forest Park. 
1st Marwood Scouts at the Remembrance Service     at Marwood Church on Sunday 12th November 2017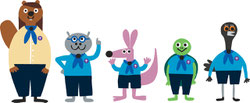 Meet Bugsy, Erin, Harry, Kyla & Tareq
Bugsy is the Beaver Scout Leader

1st Marwood Scouts
1st Marwood Scouts has an Integrated Cub and Scout section. The section meets every Thursday during term time from 6.15pm to 7.30pm at Marwood Community Hall.
So why not come along and be involved in the largest youth organisation in the world.
If you are 6 - 8 years old you can join our Beaver Colony
If you are 8 - 10½ years old you can join our Cub Pack
If your 10½ -14 years you can join our new Scout Group
If your over 18 why not become a leader and help young people experience fun, exciting challenging activities in a safe environment, it will look great on your CV and as Richard Branson put it "Scouting was great fun. I learnt a lot and I don't think I could have done without it." Sir Chris Bonnington says "Scouting does an absolutely terrific job. It's all about getting young people outdoors and encouraging them to be independent." Bear Grylls sums it up "As Chief Scout, I've met some of the most inspiring young people ever. I'm proud to be part of the largest youth movement in the world."
So why not come and join us? Just fill in this form and send it in.
Contact email; 1stmarwoodscouts@gmail.com