1st Marwood Beaver Scouts

1st Marwood Beaver Scout Colony
Open to boys and girls meeting on a Thursday's. From 5pm - 6pm. A young person may join at 5 3/4 years and remain until 8 1/2. Contact email; 1stmarwoodscouts@gmail.com to let me know if you are interested in joining the colony.
The colony has settled down now with 16 young people regularly attending, all of them have been invested into Beaver Scouts and have got their first badges.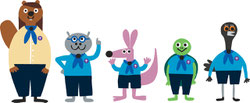 Meet Bugsy, Erin, Harry, Kyla & Tareq
Bugsy is the Beaver Scout Leader

1st Marwood Scouts
1st Marwood Scouts has an Integrated Cub and Scout section. The section meets every Thursday during term time from 6.15pm to 7.30pm at Marwood Community Hall.
So why not come along and be involved in the largest youth organisation in the world.
If you are 6 - 8 years old you can join our Beaver Colony
If you are 8 - 10½ years old you can join our Cub Pack
If your 10½ -14 years you can join our new Scout Group
If your over 18 why not become a leader and help young people experience fun, exciting challenging activities in a safe environment, it will look great on your CV and as Richard Branson put it "Scouting was great fun. I learnt a lot and I don't think I could have done without it." Sir Chris Bonnington says "Scouting does an absolutely terrific job. It's all about getting young people outdoors and encouraging them to be independent." Bear Grylls sums it up "As Chief Scout, I've met some of the most inspiring young people ever. I'm proud to be part of the largest youth movement in the world."
So why not come and join us? Just fill in this form and send it in.
Contact email; 1stmarwoodscouts@gmail.com

I want my child to join Scouting
This form should be used to register your young person with 1st Marwood Scouts, it does not guarantee they will have a place, but will provide the Scout leader with essential information to enable a decision to be made.
I want my child to join Scouting.docx
Microsoft Word Document
22.7 KB