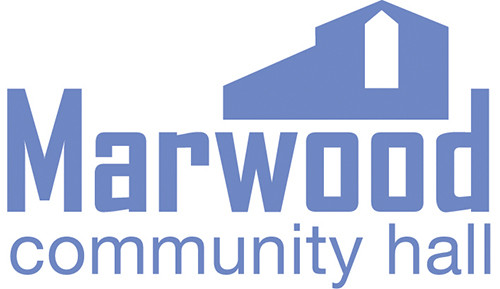 Address: Marwood Community Hall, Milltown, Barnstaple, EX31 4HF
Marwood Community Hall Flyer
Please download our flyer
hall brochure v5 pdf.pdf
Adobe Acrobat Document
446.8 KB
Directions to us:
Travelling from Barnstaple, go past the hospital & take the B3230 towards Ilfracombe. On the left you will see Broomhill Arts Hotel then (as you enter Muddiford) The Muddiford Inn.

Continue on past the Combe Martin turn, you will now see houses to the right and fields to the left. 

Take the first possible left hand turning and cross a small stone bridge.

Continue along this lane until the road splits, take the right fork and then go steeply uphill

At the stone wall of Marwood School, keep left up the narrow lane to the hall car park.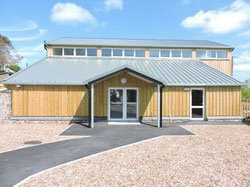 History of Marwood Hall

The old hall was demolished and the land sold for redevelopment, the proceeds of the sale were placed in a charitable trust to allow a new hall to built, and 2 public consultations gave the views of the parish very clearly. The money was held by the Parish Council until 2013 when the current committee set about implementing all of the hard work of the previous committee and began the process of bringing the new hall into reality.
Marwood Community Hall Charity
Marwood Community Hall Charity is administered by the Management Committee of Marwood Community Hall (company number 08809918, and registered charity number 1157216) as a corporate trustee for Marwood Community Hall, registered charity 293450.
The Management Committee meet the first Tuesday of each month to progress the build, gather information and share ideas on how the hall will be fitted out, used, run and managed in the future.
A public folder of information about the work we do and minutes of our monthly meetings will be available online by clicking through to Google Drive, here.
We welcome input from anyone in Marwood who would like to contribute ideas, help with events, plan a one-off or regular event or join us on the committee, please make contact with Alan Cruden, Chairman Trustee; acruden7@gmail.com
AGM
Marwood Community Hall
Thursday 18th July 2019 at 8:00 pm
We need more Charity Trustees.
We now have a new Hall so come and help us run it.
Give Pete: 850329 or Alan: 850592 a call.
The Big Build - Photo Album