MARWOOD PRE-SCHOOL
Sadly Marwoood Pre-school closed in July 2018 due to lack of eligable children living in the locality and changing needs for childcare. The Playgroup/Pre-school was an important part of Marwood for more than 40 years - for a look down memory lane please see below!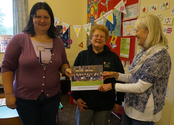 40 years of Marwood Playgroup &
Pre-school  1975 - 2015
Dorothy Croft, the first Playgroup Supervisor, handing a book of memories to Sandra Spear, the present Pre-School Supervisor and Liz Quick, the Chairman of the Committee of Parents responsible for the running of the Group.