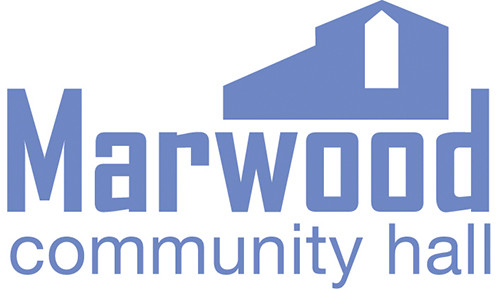 Marwood Community Hall Charity Trustee Report
The MCHC Trustee report sent to the charity commission.
Trustee Annual Report 2016.pdf
Adobe Acrobat Document
3.9 MB
Charity Commission Report 2016
These accounts have been audited and will be presented at the AGM
Signed examiners report.pdf
Adobe Acrobat Document
834.3 KB
Charity Commission Report 2016
These accounts have been audited and will be presented at the AGM
cc17a (1) Accounts 2015 V3.pdf
Adobe Acrobat Document
473.6 KB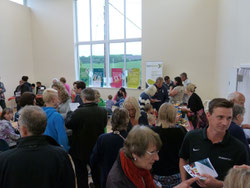 13th June 2015 at 2.00 pm
Was our official opening and what a fantastic turnout, well over a 100 people came to see the hall and all of the exhibitors expressed amazement at how engaged and enthused everyone was, a real credit to Marwood. To everyone who came to see us, a big thank you from the Trustees, and we look forward to meeting you at events in the near future.
Alan Cruden Chairman Trustee
The Big Build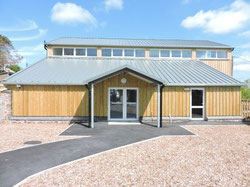 30.4.15 Build Complete
The final push to complete, was successful.
The blue flooring looks really good in the kitchen, hall, toilets and store. The hall floor is superb and the overall finish excellent, very impressive.
Alan Cruden, Chairman Trustee
Latest video of kitchen by Nic: KITCHEN
March 2015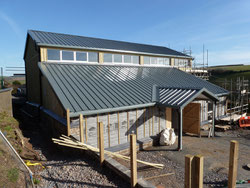 Progress has been pretty good since January, the weather has been kind, but additional work to make the building airtight has set us back, so now we have a practical completion date of 30th April.
30.3.15 CDL tell me that the Kitchen will be installed after Easter, along with finished fencing & pathways around the hall.
Alan Cruden, Chairman Trustee
January 2015
13thJanuary 2015 - The roof is on, the main concrete slab was poured over 4 days just before Christmas so it had 2 weeks to harden. The remaining slab under the kitchen, toilets, entrance and store will be poured this week.
Have a look on Facebook at the video. Sneaky peak inside Marwood Community Hall.

Unfortunately there has been some slippage in the building schedule due to high winds in December delaying fitting the roof sheets and difficulties getting contractors and materials on site to schedule. We are awaiting a new programme from our main contractor, but a March completion is now the earliest likely outcome.
Delays apart, no actual construction problems have been encountered and the project continues to run within budget.
The kitchen equipment and layout has now been fully specified and all items ordered and work continues to finalise and obtain quotes for items needed to fit out the rest of the building.
We are very grateful to have received grants to equip and furnish the Hall from: the Rotary Clubs of Barnstaple Charity Shop; the North Devon Town and Parish (TAP) Fund, thanks to the support from Marwood and Bittadon Parish Councils; and from both the North Devon and Devon County Community Councillor Grant schemes. In total we received £2,830.
We still have a number of other grant applications to be assessed.
Thanks to the efforts of Alan Cruden, good progress is being made to establish a scouts/beavers group at Marwood. If anyone else is interested in organising other club activities, please do contact Alan Cruden on 01271 850592 or email acruden7@gmail.com

Pete Silveston,
Secretary, Marwood Community Hall.
November 2014
Charity Commission Annual Report 2014
These accounts have been audited and will be presented at the AGM
AGM 2014 accounts Charity Commission FIN
Adobe Acrobat Document
63.8 KB
Charity Commission Annual Report 2014
These accounts have been audited and will be presented at the AGM
AGM Accounts cc17a shortened version.pd
Adobe Acrobat Document
59.7 KB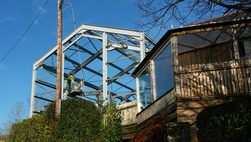 Construction of the Hall is proceeding to the latest plan. The steel frame was erected in the first two weeks of November, scaffolding will follow, enabling the roof to be put up by the end of the month. The concrete slab for the whole building will then be poured. By Christmas we should see most of the external walls erected and the external doors and windows put into position. January is when the internal works get underway. Completion is still on for early February, weather permitting.

     Work continues to finalise the items needed to fully fit out the hall and kitchen. We will be putting in grant applications to help fund these items. As a start, we have just secured a £300 grant from North Devon Council's Community Buildings Broadband Fund to install wi-fi coverage inside the hall, using Wild West as the supplier.
To all prospective  hall users, please do contact Alan Cruden, our trustee chairman, to discuss your interest in organising future events in the hall. Phone 850592 or email: acruden7@gmail.com
Pete Silveston, Secretary, Marwood Community Hall.
October 2014
The project started on time, just as the children broke up for the summer holidays. The old hall was removed safely by specialist asbestos approved contractors. The main contractor CDL had perfect weather all summer to clear the site, the soil and sub-soil being spread on the field behind the school football pitch has created a new berm that will be grassed over. The foundations took a little longer because of loose rock in the lowest corner nearest to the road, this meant more loose rock had to come out and more filling back up with hard core. The foundations were then dug and concrete poured to level the building, all of the steel frame points have been made and "coned off". The big retaining walls designed by the structural engineer have been started these will quickly define the site and give sense to how big the hall footprint is. So as we move towards November the steel frame, should be on site and perhaps even some of it in place.
Alan Cruden, Trustee Chairman
The Hall Committee is now working on what will be required in the hall by way of tables, chairs and crockery etc. for community use and on marketing the facility. If you are a prospective hall user please contact Alan Cruden, our trustee chairman, to discuss your requirements, either by phone (850592) or email acruden7@gmail.com 
One suggestion is to start a Scout group in the new hall and Alan Cruden has met with the District Commissioner and Regional Development Scout to discuss the idea and they have been very supportive. So, if you have a 4-10 year old and they would like to join please let Alan know. A minimum of 20 children will be needed to start up a new group. Please remember to look at our Facebook page and our Marwood Matters web page where you can keep in touch with developments, news about planned activities, forthcoming events and the grand opening – more about that next month. https://www.facebook.com/marwoodcommunityhall?ref=hl
Pete Silveston. Secretary, Marwood Community Hall. 
August 2014
The Community Hall AGM was held on July 17th. Lorna Jones was elected as a charity trustee, joining Alan Cruden and myself. Lorna works at North Devon Council as the Grants and Community Development Co-ordinator and has been a member of the Hall Project Team over the past year. The Representative Trustees are Nicky Cruden-Shepherd ( Marwood School Association), Margaret Greenslade (Marwood Church), Cllr Richard May (Marwood Parish Council), Liz Quick (Marwood Toddlers) and Sam Willis (Marwood Pre-school). Also Christine Briggs-Wilson, from Prixford, has joined our Project Team.
All legal documents for the new hall were signed with Devon County Council on Friday 25th July and the contractors moved on site the following Monday. It was very touch and go but we made it in time to make full use of the school holidays when the site will be empty.
The new car park extension has been dug out and given a loose stone surface and the contractors will be using this area as their compound during the construction. By the time you read this note the old hall will have gone and foundations will be being dug. The project duration has remained at 25 working weeks, but with a two week Christmas shut down and allowing for some delays due to bad weather, the hall will be completed during February next year.  
We now need to start thinking about how the community wants to use the new hall. Action is already being taken to try and set up a Marwood Scout Group. Are there any badminton players in Marwood who would like to start up a group? Is there interest in having local fitness, pilates or other classes? Please contact  one of the trustees if you  are part of an existing club / organisation and would like to use the new hall or wish to set up a new club / group in Marwood..
Pete Silveston.
Secretary, Marwood Community Hall.